Players make an initial ante bet on HOUSE 1 or on HOUSE 2, may also make an optional wager on TIE and may make a Bonus / progressive wager on "2021". Like in Baccarat, dealer deals 2 cards to HOUSE 1 and 2 cards to HOUSE 2. Hand score is in accordance to the score used in the Blackjack game.
Starting with HOUSE 1, dealer withdraws cards in accordance to the house rules of Blackjack, i.e. dealer withdraw cards until HOUSE 1 hand score is 17 to 21 or breaks. Dealer then similarly deals with HOUSE 2. After all cards withdrawals are completed, if any, dealer compares the scores of HOUSE 1 and HOUSE 2, collects and pays the ante bets and TIE bets in accordance to Table 1.
Regarding the Bonus Wager "2021" in JACKARAT, dealer will act as follow:
If the score of the wagered party (House 1 or House 2) is less than 20 or more than 21 than the Bonus wager is a loss. If the score of the wagered party (House 1 or House 2) is 20 or 21 then dealer pays the bonus wager in accordance to Table 2.
After all bets are resolved, the dealer collects all cards, new wagers are placed and a new round begins.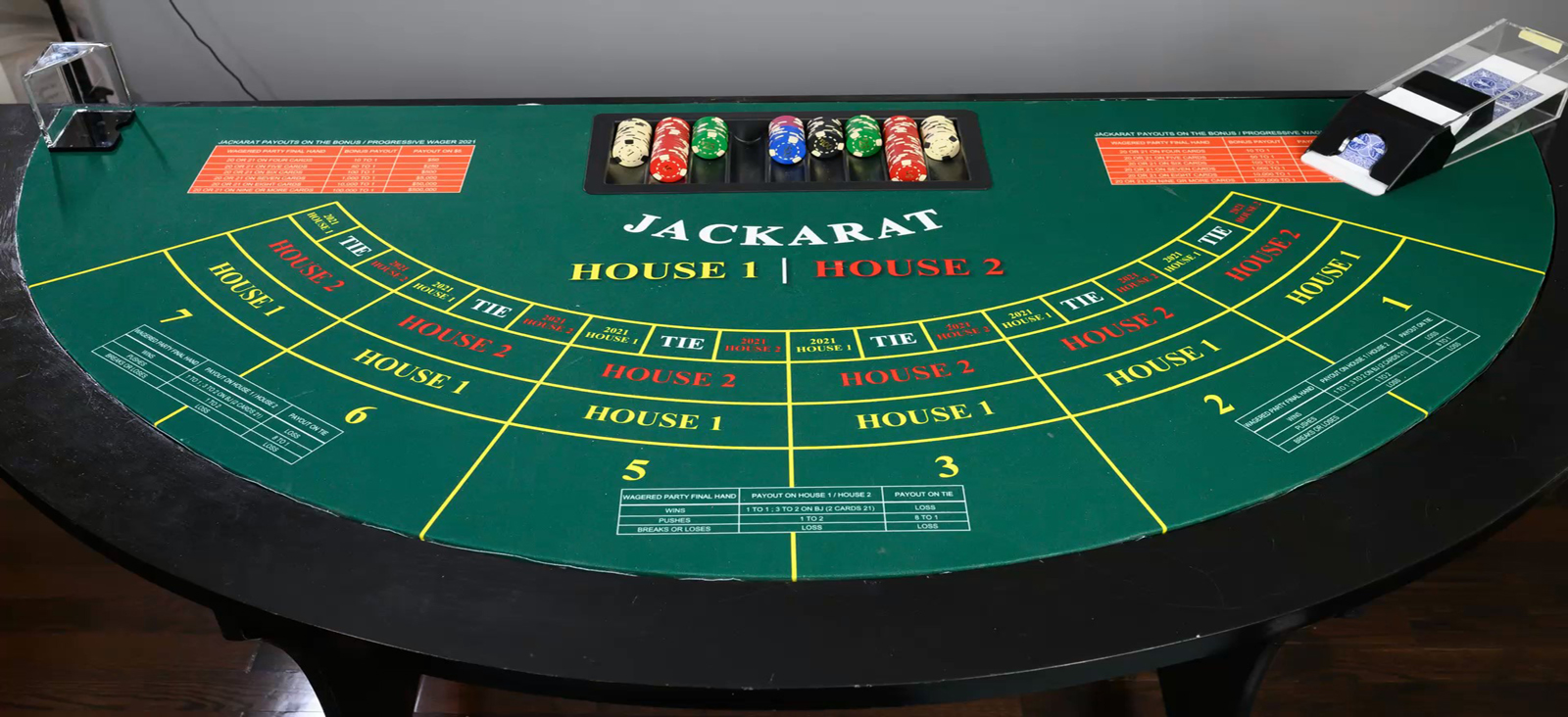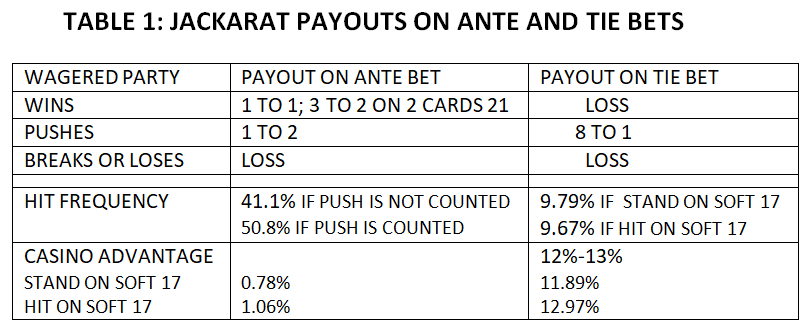 ADVANTAGES OF JACKARAT ON BACCARAT AND BLACKJACK
1. NOT LIKE IN BLACKJACK, JACKARAT IS A GAME OF PURE CHANCE.
2. NOT LIKE IN BLACKJACK, PLAYERS DON'T GET UPSET AT THE DEALER OR MAD AT OTHER PLAYERS BECAUSE OF A "BAD" OR "UNEXPECTED" MOVE OF THE OTHER PLAYERS THAT WOULD AFFECT THE FATE OF THEIR WAGER. JACKARAT IS INTIMIDATION FREE.
3. NOT LIKE IN BLACKJACK, THE VALUE TO THE PLAYER OF CARD COUNTING IN JACKARAT IS NIL, LIKE IN THE BACCARAT GAME.
4. NOT LIKE IN BACCARAT, THE RULES OF WITHDRAWING ADDITIONAL CARDS BEYOND THE FIRST 2 CARDS TO HOUSE 1 AND TO HOUSE 2 ARE SIMPLE AS THEY FOLLOW THE HOUSE RULES IN BLACKJACK.
5. NOT LIKE IN BACCARAT, PLAYERS GET PAID WHEN HOUSE 1 TIES HOUSE 2.
6. NOT LIKE IN BACCARAT, COMMISSION IS NOT REQUIRED.
JUST EASIER, SIMPLER, FASTER, MORE EFFECTIVE AND ENJOYABLE